Submitted by

Pastor Tom

on Sat, 09/01/2012 - 15:26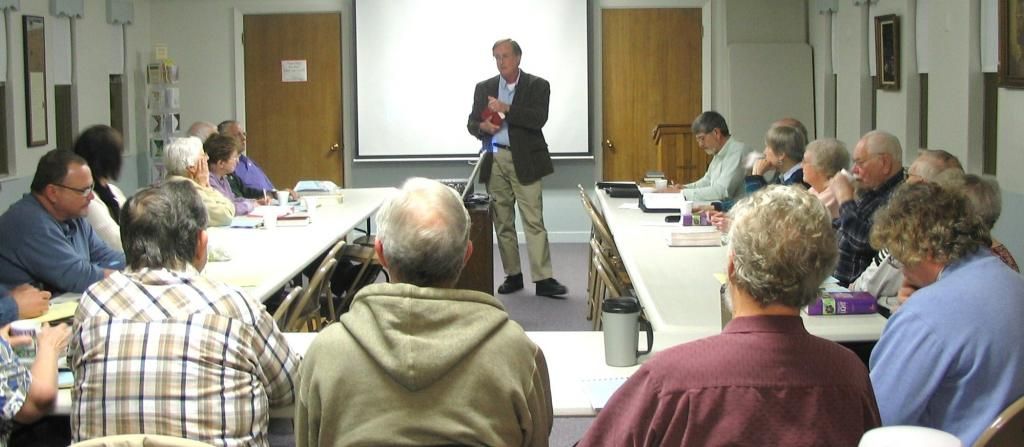 Tuesday night at the church is part of the fall line-up that I hope will become a regular part of your week.  Beginning on September 11 at 7:00 PM, everyone is cordially invited to the Pastor's Class in the fellowship hall.  If seating is a challenge, we will simply move into the sanctuary.  All new members will certainly want to take advantage of an opportunity like this to grow in their understanding of what we believe and why we believe it according to the Holy Scripture and the Lutheran Confessions.  Every session will offer ample time for discussion and discovery of the key doctrines of our Christian faith.
This study course is entitled: Living Forgiven, something that only God the Holy Spirit can empower us to do every day.  The Lord knows how much we need a daily workout in his Word, and certainly this course is designed to help us do just that.  Those who have copies of the study guide from last February are encouraged to bring them to class.  Additional copies will also be available to everyone else.  In 14 lessons we will be studying how the gift of God's forgiveness relates to Christ in the Scripture, the Sacraments of Holy Baptism and Communion, Law and Gospel, Creation, Redemption, and Sanctification (the three parts of the Creed), the Church, Confession, Prayer, Confirmation, Vocation, and the Christian Life.
 
In each of the topics great care will be taken to relate our study to the core doctrine of our Christian faith, namely, the material principle of justification, being declared right with God by grace through faith on account of Christ.
 
Is this gift of grace something we earn, deserve, or receive because we're good and righteous?  Do we get a ticket to heaven because we have membership in the church?  Many people still think so.  There are even church denominations that make good works a means of obtaining salvation.  But not according to the formal principle of Holy Scripture where we are clearly taught that Christ is the only way, the truth, and the life.  And that no one comes to the Father except through him.  (John 14:6).  We owe a debt of gratitude to men like Dr. Martin Luther who gave his whole life to the study of God's Word, and dared to stand on Christ alone for life and salvation.  
 
As a former student of Holy Scripture once confessed to me, the point of entry into the Christian Church is not an intellectual achievement, but a gift of faith.  We are never good enough; we never know enough; we never completely measure up to God's high standards.  When it comes to joining the church, we do not become members based on our intellect or will.  Rather, we become a part of the body of Christ by the grace of God to us.  We hear the Word, we believein our heart, and we respond in worship of our Savior and Lord.  The truth is, we never "graduate" or earn the right to be a member of the church.  We simply grow by the power of the Holy Spirit and continue to be and become disciples of Christ.  
(Edward Ocone, 1992)
 
Please come and grow with all your brothers and sisters in the faith on 9-11 at 7.
Your Pastor and friend, 
Pastor Tom